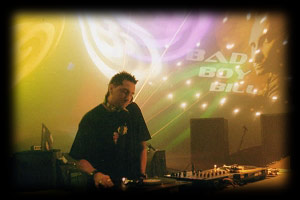 DJ 'Bad Boy' Bill DiMaggio originally hails from Sunnydale, California. His Uncle Willy ran a bar there for a fairly specialized clientele who usually had reason not to want to be found. Bill learned early on how to keep his ear to the ground and his mouth shut...until his price is met.
Bill is the DJ at The Nightowl. In this environment, Bad Boy Bill thrives. His Uncle Willy may have been a timid little weasel, but Bill is not his uncle. He drinks hard, smokes too much, plays the feminine field, and is associated with some of the most powerful demons in the area...all of whom he would sell out in a New York minute if there was enough money on the table to make it worth his while. He would crawl over broken glass with his zipper down if it made him enough money.
Cash of any significant amount, however, has eluded him thus far. That's why he's a DJ in a seedy nightclub with a largely demon, vampire, and human refuse clientele.
The Slayer's reputation preceeds her. Bill already holds a grudge against her. His Uncle Willy lost a lot of business and suffered numerous minor injuries from his dealings with Buffy and her friends. Family - even a family like Willy - is important to Bill. Almost, but not quite, as important as money. The fact that Willy is doing a booming business at his new bar in Cleveland doesn't mitigate the fact that he suffered at Buffy's hands. Given the opportunity, he will find some way of making Buffy's life miserable. He's even willing to take a small loss on the proposition.