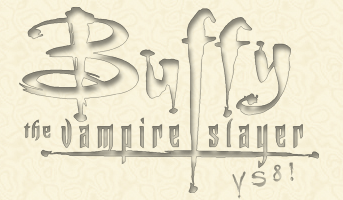 That's a Wrap, Folks!
We hope you enjoyed VLC's Virtual Season Eight. We tried to leave our heroes in a better position then where Joss left them in Chosen. While things will never be perfectly peaceful for the extended Scooby Gang, we think they are on their way to, as Percy said, having lives well worth fighting for.

And therefore, we're going to leave them to those lives: there will not be a VLC-VS9. This has been an absolutely amazing experience. It has also been absolutely exhausting. Our final ep aired almost exactly one year since our first ep, "Home Is Where You Hang Your Axe" aired, and a year and a half since we started production. This has been more than a full time project for most of us and we simply cannot continue to keep the pace and maintain the quality.

There is a chance, not a promise, but a chance, that over the next year, there may be a few "Made for VLC Movies." We enjoy very much working together and we have thought about one or two "Reunion Specials" being possible in the future. Site extras will also be updated periodically as inspiration hits.
Please see the boards for the LuniVerse Fanfic Archive and info on Behind the Scenes and more information as to what is new.

And as always, thanks for the support,
The Lunatics

www.VirtuaLunatics.com