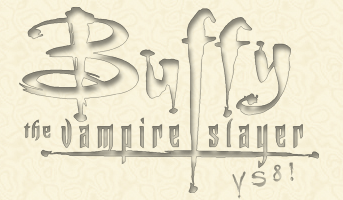 Virtual Season 8
It's a Whole New Slayground!
PREVIOUSLY ON BUFFY THE VAMPIRE SLAYER: Over a Thanksgiving holiday that should have provided the perfect opportunity for family bonding, underlying tensions were brought to the surface by an empath demon. Forced to experience one another's emotions, the Scoobies finally faced some important issues before finding a way to break the spell.

And while Buffy's plans to do the feast herself were ruined, Jo and Lessa managed to "save the day," with a fine banquet, complete with mushy peas....