FOOD, FUN, FRIENDSHIP ABOUND AT BERRY DAYS CELEBRATION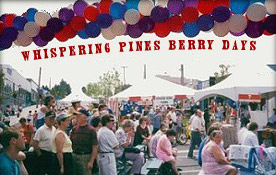 But all good things must come to an end, and Berry Days did just that on Sunday evening. As the last tents were folded and the musicians put their instruments away, Bill Collins heaved a satisfied sigh.
"My company puts together twelve shows a year, but this is my favorite," he said. "Probably because I'm a complete sucker for anything with blueberries in it. That, and this wonderful town. It's a great place. Nothing bad ever seems to happen here, and the show always runs smoothly. I can't wait for next year."
Neither can the rest of us, Bill.
---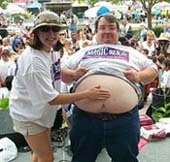 Contest Winners
The winners in this year's Berry Days Contests are as follows:
Pie-eating, under 10: Ashley Brandon, age 8

Pie-eating, 11-17: Corey Jones, age 17

Pie-eating, adult: Luke Garfield, age 23

Pie-eating, seniors: Frank Anderson, age 72
All winners received gift certificates for a free slice of pie at Waffle Wagon Restaurant.
The Berry Cookoff was won by Helen Hope for her Tripleberry Spice Pudding. She was awarded a fifty dollar gift certificate from The Cook's Nook and a copy of the Berry Day's Cookbook.
Honorable Mentions went to Kim Steele for her Gooseberry-Glazed Porkchops and Alan Darcy for his Strawberry-Rhubarb Crumble. Each won a twenty-five dollar gift certificate from The Cook's Nook.
The Pie Baking contest was won this year by Lessa Nightsong for her Apple-Blueberry pie. Her prize was a free copy of the Berry Days Cookbook and a Berry Days tee shirt.
The jams, jellies, and preserves contest was swept by the ladies from the commune for the third year running.
First place: Elspeth Stewart for her Black Current Preserves. She was awarded a Berry Days Cookbook, a selection of wooden spoons from The Cook's Nook, and a silverplate berry dish provided by Antiques 'N' Stuff.

Second Place: Deborah Coleman for her Seedless Raspberry Jam. Her prize was a Berry Days Cookbook and a ten dollar gift certificate for The Cook's Nook.

Third Place: Mary Ann Peel for her Marionberry Jam. She was awarded a copy of the Berry Days Cookbook.
Congratulations to all the winners.
Berries, Berries, and More...
by Claire Olney
---
It's May, and everyone in Whispering Pines knows what that means.
Berries.
This is the time of year when strawberries, marionberries, berries black and blue, and almost any other berries you can name, ripen to tempt our palates and fill our pantries. Pies, jams, jellies, shortcakes, cobblers, and more are made tasty and attractive with the berries our region is noted for.
Small children go out to fields to pick wild berries and return home with empty buckets and red-stained hands and cheeks.
And, for the seventy-eighth year in a row, Whispering Pines has celebrated Berry Days.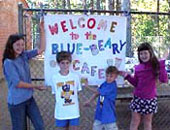 For three days, Indian Lake Park was the site of the annual festivities in honor of our favorite fruit. Festival goers, both local and from out of town, spent the weekend eating berries, listening to a variety of bands, admiring local crafts, and taking part in cook-offs and other contests. Children enjoyed the face painting booth and the storytelling and magic tricks of Berryella the Clown.
Attendance was up this year, according to promoter Bill Collins of WG Collins Productions.
"Last year we got about thirty thousand people through the gates. This year it has to be at least forty. If it keeps up at this rate, we'll have to find a bigger place to hold the festival."
From talking to some of the attendees, Collins may need to think about a change of venue as early as next year.
"I came from Seattle to see this fair because my cousin Julie said it was so much fun," said Marcy Greenwald. "When I get home, I'm going to call my whole book club and tell them about this. I'll definitely be back next year, with as many of my friends as I can convince to come along."
Greenwald's six-year-old son, Travis, agreed.
"The clown is funny, and there's lots of pies. I got a blueberry pie and a strawberry pie, but I don't like raspberry, so I didn't get that. I want to come back next time and get more pies."
Third-generation local boy Brad Connelly also had a good time.
"It's great. I brought my folks and my grandparents and my sister. We're all spending the day together as a family. There's good food, good music, crafts, stuff for little kids to do. You can't beat it for a fun time. I look forward to Berry Days all year."
Begun in 1925 by local farmers, Berry Days has grown from a single pie-eating contest into a local tradition and cultural cornerstone of the community. Now, in addition to the pie-eating contests (there are divisions for under 10, 11 to 17, adult, and senior citizens), there are contests for pie baking, a berry cook-off, berry tastings, a Berry Blossom Queen, and three days of entertainment, arts and crafts, much of it provided by local residents.
This year's Berry Blossom Queen, nineteen year old Jennifer Cox, is proud to be a part of such a long-standing tradition.
"Berry Days has been going on for a long time now, and it's a part of living in Whispering Pines. Berry Days is older than my grandfather, and it will still be here when I'm older than my grandfather is now. It's like I get to be a piece of Whispering Pines history."
This sense of history and community surrounds the event for participants young and old, local and visiting from far away.
"I may not be from this town, but I love this show," says Arizona native Shelley Barr who has sold her handcrafted pottery at Berry Days for the last eleven years. "In the craft business, it's easy to get burned out on fairs because you go to so many and they get to being alike after a while. There's just something welcoming and homey about this one. And as long as I make sure to bring a few things with strawberries painted on them, I always make a profit."
In fact, this reporter couldn't help adding to Barr's profits by buying a serving bowl - painted with cherries.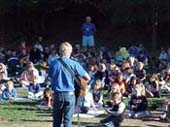 Strolling by the lake, visitors could listen to bands ranging from rock to Irish to Dixieland Jazz from shortly after daybreak until the festivities closed down at nightfall. As for food, there was a choice between such delicious concoctions as blueberry ice cream, strawberry shortcake, Swedish pancakes with Lingonberry sauce, and lamb kebabs marinated in raspberry juice and garlic. Even the ice tea was flavored with blackberries.